Thai street food is cheap cheap cheap! Even street vendors that get a lot of tourist traffic typically won't charge more than 30-60 baht ($1-2 USD) for their offerings. If you venture into a truly Thai market void of tourists, you can eat like a king for just a few dollars. Eating from street vendors helped me manage a budget of $20 a day in Thailand!

If you LOVE spicy food, like yours truly, be warned that "Thai spicy" is an entirely different level of HOT. I went to a locals' spot and ordered as the locals do (despite some serious discouragement from the vendor). I couldn't even sit near my food because the steam from my dish caused me to tear up and cough uncontrollably. If you wanna play it safe, order without spice and add some chile sauce later.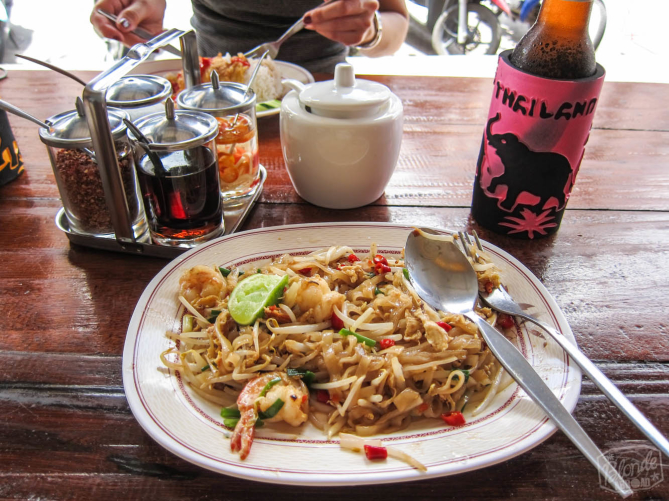 Speaking of chile sauce, Thai food culture is all about customization. On the makeshift tables of street vendors, you'll notice a caddy of four condiment jars filled with some interesting concoctions. Typically, you'll find jars of sugar, fish sauce, a chili/garlic/vinegar sauce and dried chile flakes. You can also request Nam Pla Prikwhich is a fish sauce with chiles, garlic and lime- and it's the bomb.com.

Some Thai food can also be REALLY sweet. Like stomach-ache sweet. When ordering a Thai iced tea (my favorite) or Thai iced coffee, they normally add a ton of sweetened condensed milk. They might be surprised, but request a "little" bit of the sweetener, taste test, then ask for more if you wish.

Thai iced tea (cha yen) is not like American iced tea. It's a creamy orange-colored beverage sent from heaven and it might just change your life.
Tags: